It's Football Season! 5 Ways to Score Family Fun
For many Atlanta families, autumn is all about the Fs: Fall, Football and Family Fun. Whether your family roots for a high school or college game, the atmosphere for fall football feels like a festival. Due to the pandemic, some games may allow only a limited number of fans. Even if you can't make it to a game, there are still lots of ways to root for your favorite team at home. Buy some noise-makers and confetti, and try these ideas for maximizing your family's fun:
Fun Fan Game Day Signs
All you need is posters, crayons, markers, glue and construction paper. Let kids create signs that have the team's name and mascot on them. This will familiarize the family with the team's colors and mascot, and even educate your children on the university's background.
Fan Sing-a-Song
Learn the university's fight song! You can also learn the team's chants.
Fan Family Fashion Show
Purchase team fan gear, then get your children to create their favorite two outfits. Or go through your closets and pull out clothing in your team's colors. Once everyone has selected their clothing, play some music, gather everyone in the living room and strut your stuff!
Have a Tailgate Party at Home
Have your own tailgate picnic – outdoors or in. Though some families grill an elaborate feast, you don't have to – sandwiches and chips or a takeout meal will do. But consider adding a special touch. How about Team Pretzel Rods – pretzel sticks dipped in chocolate and decorated with sprinkles in your team's colors? A few more fun ideas: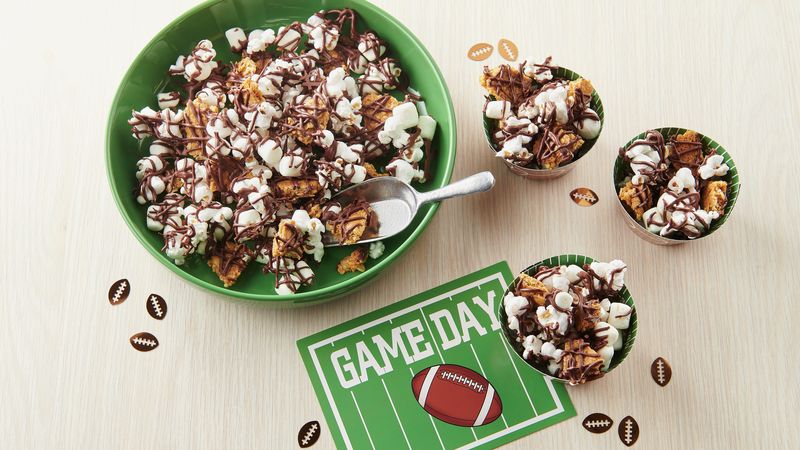 S'mores Popcorn Snack Mix
This easy-to-mix treat is made with just four ingredients: popcorn, granola bars, chocolate chips and mini marshmallows.
Source: bettycrocker.com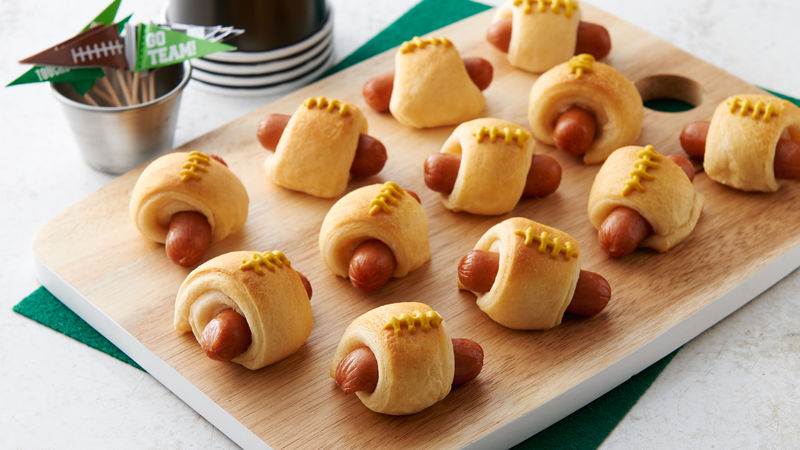 Crescent Dog Footballs
Cut crescent roll dough in strips and wrap around miniature hot dogs or cocktail sausages. Bake at 375 degrees; add 'laces' with mustard. Wrap miniature hot dogs in crescent roll dough and bake 11-14 minutes. When cool, add details with mustard.
Source: pillsbury.com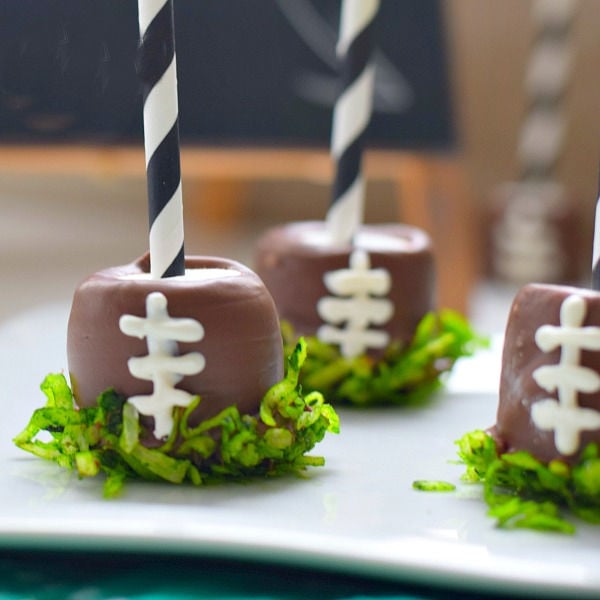 Football Marshmallow Pops
Kids will love helping with these easy, yet impressive, treats! Insert straws into marshmallows and dip in chocolate candy melts. Dip in green-tinted coconut and let harden, then add details with white chocolate melts or purchased frosting in a tube.
Source: kidfriendlythingstodo.com
Plan Your Halftime Activities
During half time, cut a couple of holes in an old sheet and see who can toss a football through the holes. Play a game of touch football in the back yard, or test the family with a sports trivia quiz (try Kahoot! or FunTrivia). Challenge kids to create a family cheer or put on a halftime show.
Dawn Montgomery-Greene contributed to this article.