Whether you pitch a tent and sleep under the stars, create your own teepee, or just spread an old sheet on the ground, camping in your back yard is a fun way to connect with nature. Plus, you can always head back inside if it rains!
Tips for a successful backyard campout:
Gather everything you'll need (like sleeping bags, activities and snacks) and bring it all outside ahead of time. If you have to keep going into the house, you'll lose the feeling of camping! Make a rule that no one goes into the house except to use the bathroom. Plan kid-friendly food and games to keep things interesting. You don't need lots of fancy equipment; just a little imagination.
Camping Fun and Games

Collect leaves from different types of trees in your yard. Place them on a flat surface (face down works best) and cover with a piece of paper. Use a crayon to lightly color over the leaf to reveal its pattern.
Source: firstpalette.com
Kids will have fun gathering the materials for these DIY paintbrushes and experimenting with the effects each type of brush makes. Gather pine needles and leaves from trees for the bristles. Bundle them at the end of a twig and tightly wrap with raffia, string or twine. Dip the paintbrushes into your favorite paints and create some nature-inspired art.
Source: applegreencottage.com
Bring lengths of lightweight rope to your backyard campout and learn basic knot tying. Here are six knots that every camper should know.
Source: coolofthewild.com
Play flashlight tag, go on a nature scavenger hunt and more – all in your back yard. Check out the National Wildlife Federation's list of camping activities for kids.
Source: nwf.org
Fun Food Ideas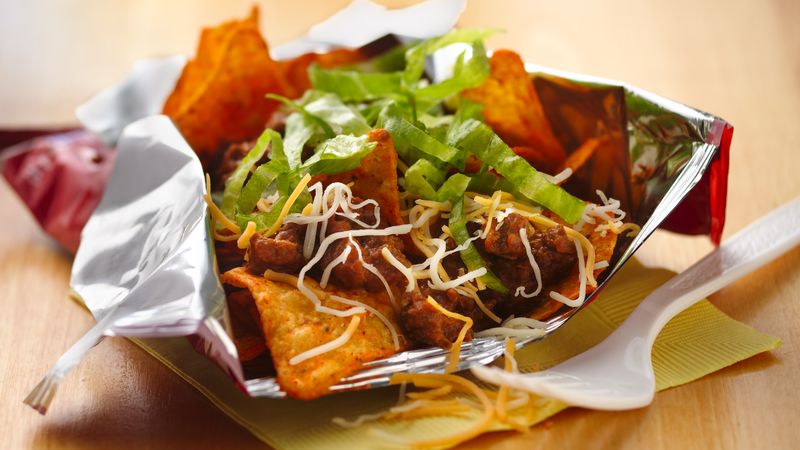 These tasty "tacos" make a fun, easy-cleanup meal. Combine seasoned ground beef and ready-made taco sauce. Open a bag of nacho-flavored tortilla chips and top with the beef mixture. Add cheese and lettuce and eat right out of the bag!
Source: bettycrocker.com
Also known as hobo packets, these tasty meals can be cooked over a campfire, on the grill, or even baked in the oven. Layer any dinner combination – beef or chicken and vegetables are great choices – on heavy-duty aluminum foil. Fold and crimp the edges to seal. Everyone gets to choose their own dinner combination!
Source: gimmesomegrilling.com

An ice cream cone is the base for this fun dessert. Kids can load their cones with chopped fruit, mini marshmallows, chocolate chips, M&Ms, peanut butter cups or cookie pieces. Wrap tightly in foil and heat over the campfire or grill.
Source: princesspinkygirl.com
Line a terra cotta pot or bowl with several layers of heavy duty aluminum foil. Fill with charcoal and light. Use your "campfire" to toast marshmallows for s'mores.
Source: hometalk.com