Make It at Home! DIY Craft Recipes
Need some fresh ideas for fun? A few simple ingredients are all you need to mix up your own play dough, paint and more. They're fun to make – and even more fun to play with.
Moon Sand
Moon sand is moldable like clay, but crumbles apart like sand, so kids can use it again and again. In a large container, mix together 3 cups cornstarch and 6 cups play sand. If you want, mix in an envelope of unsweetened Kool-Aid for color. Add water in increments (about 1½ cups total), mixing until you reach the desired consistency. Store your moon sand in an airtight container.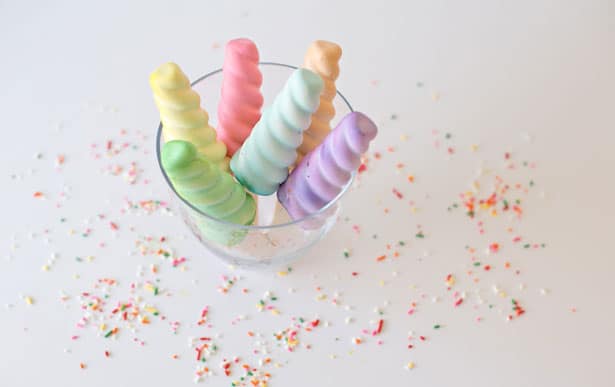 Sidewalk Chalk Popsicles
Frozen sidewalk chalk is bright-colored fun on a warm day! Mix together equal parts plaster and water, then add small amounts of food coloring until you achieve the color you want. Using a plastic spoon, pour the mixture into popsicle molds and freeze. You can also use paper cups with craft sticks, ice cube trays or other small molds.
Source: hellowonderful.co
Air-Drying Clay
In a saucepan, mix together 2 cups baking soda, 1 cup cornstarch and 1½ cups water. Set the pan over medium heat and stir until boiling. Stir the clay until it's smooth, with the consistency of mashed potatoes. For colored clay, add food coloring or tempera paint. Remove the clay from the pan and cover it with a damp kitchen towel; let cool. Knead on a cornstarch-dusted work surface until smooth. Allow projects to dry completely before painting or decorating.
Source: homeschoolingideas.com
Corn Syrup Paint
This easy-to-make paint creates bright colors and a high-gloss finish when it's dry. Fill the compartments of a mini muffin tin with corn syrup and add 2 to 3 drops of liquid food coloring. Use Q-tips to apply the paint and create designs (heavier weight paper works best). Tip: draw a design with crayons or markers and use the paint to fill in the design.
Source: pinkstripeysocks.com
Kool-Aid Modeling Clay
Mix 1 cup flour, 1/2 cup salt, 1 envelope unsweetened Kool-Aid and 2 teaspoons cream of tarter in a medium saucepan until blended. Stir in 1 cup water and 1 tablespoon oil. Cook on medium heat 5 minutes or until mixture forms a ball, stirring frequently. Transfer to a plate and cool slightly. Store in a resealable bag.
Source: kraftrecipes.com
Fizz Droppers
Fill the compartments of an ice cube tray or muffin tin with vinegar. Add several drops of food coloring and mix well. Sprinkle an even layer of baking soda in a small, shallow dish to cover the bottom. Use a dish towel as a placemat to stop anything from slipping around and to catch any drips. Use the eye droppers as paint brushes, the vinegar as paint and the baking soda as a canvas. Enjoy volcanic results!
Source: Recipe for Play: Creative Activities for Small Hands and Big Imaginations by Rachel Summer and Ruth Mitchener. Reprinted by permission of the publisher.
Edible Pudding Finger Paint
Make a batch of vanilla pudding following the instructions on the box. While the pudding sets, place two to three drops of food coloring into separate containers. Scoop spoonfuls of pudding into the containers and mix. Drop a spoonful of each color on the paper. Let your child use his fingers to make designs and lines – while eating the pudding along the way. Make sure your child is wearing clothes you don't mind getting messy and that you're "painting" on an easy-to-clean surface.
Silly Putty
Combine 4 ounces of glitter glue (the non-washable kind) and 4 ounces of water; mix well. Dissolve 1 teaspoon Borax in 4 ounces of warm water and add it to the mixture. Mix and knead until pliable.
Source: scatteredthoughtsofacraftymom.com