Ideas for Holiday Reindeer Fun in Atlanta
Dasher, Dancer, Prancer, Vixen…you know their names. And you can bet that Santa's not going anywhere without his trusty team so, in their honor, we salute all things reindeer.
See a Show
If you want to see "Rudolph the Red-Nosed Reindeer" come to life, take the kids to the Center for Puppetry Arts for an adaptation that's become an Atlanta tradition. The British Academy of Performing Arts will also present this holiday tale. You can also see Rudolph, Clarice and Bumble at Stone Mountain Christmas.
See a Reindeer Up Close
Snap a photo of Santa's sleigh and his two reindeer at Lenox Square on Nov. 26. At Pettit Creek Farms, meet live Reindeer (Comet and Cupid) during the Christmas Light display. At Senoia's Christmas parade, see a baby reindeer. Chattahoochee Nature Center also hosts Enchanted Woodland Wonders on Dec. 10, featuring a live reindeer encounter. Town Brookhaven's Holiday on the Town will feature live reindeer, a tree and menorah lighting and more.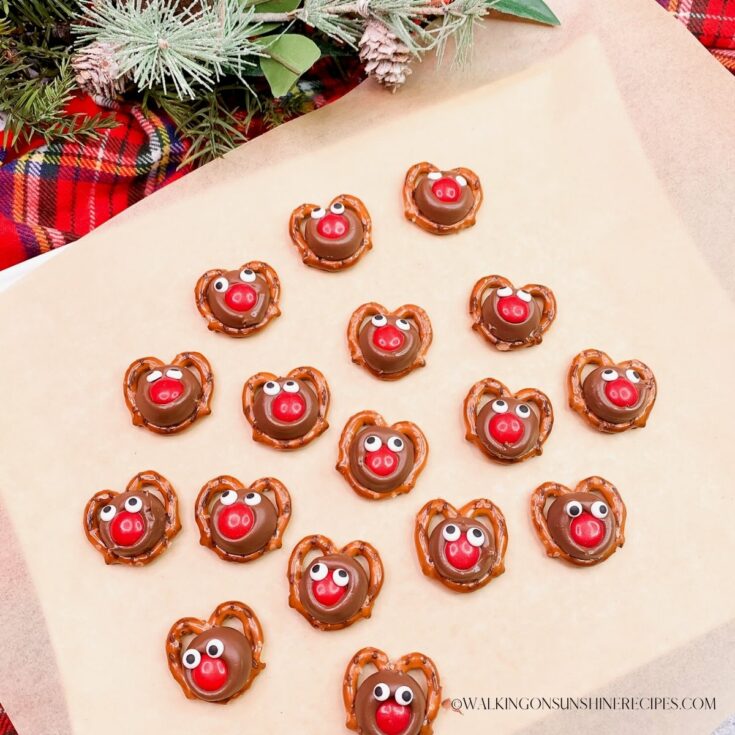 Reindeer Hershey Kiss Pretzels
Made with only four ingredients, these cute snacks come together fast. You'll need: mini pretzel twists, Hershey Kisses, red M&Ms and candy eyes. Find full instructions at walkingonsunshinerecipes.com.
Did you know? Reindeer Gingerbread
If you turn a gingerbread man upside down, he makes the perfect base for a reindeer cookie. The legs become antlers, the arms become ears and the head becomes the reindeer's face. Pipe white icing for details (add a little black for the eye) and a round chocolate candy is the nose. Be sure to use one red candy, because every herd needs a Rudolph.
Reindeer Chow
Pulling that sled all night is tough. Sure you could leave a carrot out for those hardworking reindeer, but what they really need is a little something yummy for an energy boost. Chex cereal is the base for this sweet and salty mix of chocolate and peanut butter by This Silly Girl's Kitchen. Be sure to make plenty, because your family will gobble it up, too.
Reindeer Footprints
Imagine the surprise when your children wake up Christmas morning and see hoof prints outside the front door. All you need is a template and something to use for "snow." An easy option is spray snow in a can and a stencil cut out of plastic coffee can lid. You can also use the insta-snow available online at Walmart, Amazon and other retailers. Rosie at Roaming Rosie made hers with flour and a cardboard template. If using a kit is more your style, Amazon also sells sticker kits and stencils.
Help Santa!
Santa's reindeer have gotten loose! Help find them with a scavenger hunt card to follow the clues to find each reindeer in Powder Springs.