Fun and Easy Halloween Treats
Halloween has a way of sneaking up on parents – it comes just as the school year and all its homework and extracurricular activities are in full roar. Here are some holiday ideas that'll make it look like everything was planned.
Fun Recipes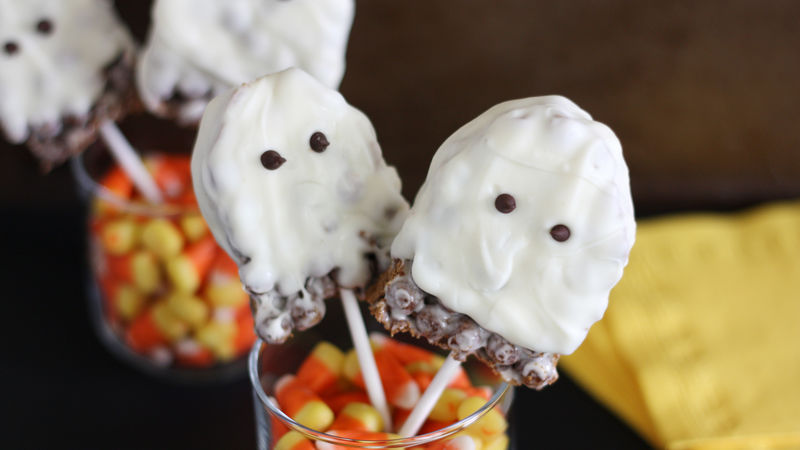 Cocoa Puffs® Halloween Ghost Pops. Grease a 13×9-inch pan with shortening. Line 2 cookie sheets with waxed paper. In a saucepan, melt 3 tbsp. butter over low heat. Add 4 c. mini marshmallows and cook, stirring frequently until melted. Add 6 c. cereal; stir until evenly coated. Press mixture into pan, and cool completely. Cut into rectangles, and push one lollipop stick into the bottom of each bar. In a microwavable bowl, microwave 2 c. vanilla baking chips and 1 tbsp. oil for one minute, stirring every 15 seconds. Dip bars into the chips or spoon over the top of each. Place miniature chocolate chips in the center of each bar for "eyes." Refrigerate until set. bettycrocker.com
Pretzel Mummies. Make super-easy pretzel "mummies" using pretzel rods. Melt white candy coating according to package directions; dip half of each pretzel in the coating. When set, drizzle more candy coating over the pretzel to form the mummy "wrapping." Adhere candy eyes or mini chocolate chips with a dab of melted candy coating.
Wicked Witch Cupcakes. Dress up a batch of plain cupcakes with this fun idea: Dip sugar cones in melted chocolate; place each one on top of a chocolate wafer cookie.  Tint purchased vanilla frosting with green food coloring and frost the cupcakes. Place a witch hat on each cupcake and add candy-coated pieces for eyes and licorice whips for hair. Cut a green gumdrop into a triangle for the nose. Visit mccormick.com for detailed instructions and more treat ideas.
Frankenstein Cereal Treats. Use food colors to tint your cereal treat recipe green before pressing it into a pan. Cut into rectangles and add features with black, red and white gel icing. Visit wilton.com for complete directions and for more easy Halloween treat ideas.

What to Do With all that Candy
We know it's unhealthy to binge on Halloween treats. Try these ideas from the creator of Blue's Clues series and the phone app, Yummiloo Rainbow Power:
Get the kids involved in making daily baggies of the candy supply for school.
Cut up candy and freeze it for use when cooking; put it into cookie batter instead of chocolate chips. Try a dessert pizza!
Make a wrapped candy mosaic on a piece of recycled cardboard or poster board. Use Hershey's kisses to make clouds, make houses out of Tootsie Rolls…the possibilities are endless.
Make a Halloween Haunted House with candy as you would do at the holidays with a gingerbread house.  Simply coat an empty milk carton or other small box with frosting and stick on the candy. Alternately you can use frosting as glue and create candy monsters.
Introduce the Candy Fairy as the cousin of the Tooth Fairy. Kids put their excess candy under their pillow at bedtime. The Candy Fairy then exchanges it for a new book, small toy, or gift certificate for special date with Mom or Dad.
Have kids sort their candy into piles and then use the candy as game pieces to play classic games.  Draw a tic-tac-toe board or get a checker board and use the pieces to play.  An on-your-feet-option:  Set your child's candy pail on the floor and have everyone try to toss in pieces of candy.
Healthier Halloween Treats
Get your kids involved in making these snacks, also from the folks at Blue's Clues:
Make a Pumpkin Smoothie, Frankenstein Smoothie (kale and fruit), or Monster Mash (purple berry) and sprinkle a few pomegranate seeds on top for the "bloody teeth" touch.
Make ghost pops by slicing a banana in half, sticking a popsicle stick in the wider half, covering in vanilla yogurt and using raisins for eyes and mouth.
Peel a whole orange and stick a cut piece of celery in the top for a stem. Voila! You have a delicious juicy pumpkin to eat whole!
Cut sweet potatoes up into long fang-like triangles (instead of the usual French fry shape) and bake, serve with ketchup "blood."
Toast up the pumpkin seeds you scoop out, roast in the oven, and sprinkle with salt or any spice.